The Struggle and Why YOU Should Take This Course
Early in my career, I wasted months trying to learn more skills to break into a technical writing role. Despite all of my efforts, I was completely lost because:
I lacked a formal background in documenting processes 

The courses and boot camps offered in the industry were either too jargon-filled or lacked sufficient depth.

I didn't have insider tips nor the right resources on how to stand out as a candidate in technical writing interviews
To become a better technical writing professional, I went down the rabbit hole to understand what it takes to build successful documentation from the inside out. I interviewed thought leaders within the industry. I learned the behaviors and habits of successful technical writers. Empowered with this knowledge, I received many job interviews at top-tier companies and startups.
Within 3 years, I went from a complete newbie to an award-winning Technical Writer. Today, my technical writing has been read by over 1 billion people.
I created the Technical Writing Certification Course with instructor feedback so that no one else had to go through the painful experience that I went through to become more experienced and land my first technical writing role.
TWHQ's Technical Writer Certification Course was created for aspiring technical writers or people who want to brush up on their technical writing skills. In this course, I teach: fundamentals of technical writing, how to create great documentation, how to answer technical writing interview questions and how to stand out in the recruiting process to land a technical writing job. To date, I've received over 50 messages from different writers who've received job offers after taking this course!
"
To be successful as a technical writer, you need to learn fundamental technical writing skills. Over my career, I've helped hundreds of people become more technical and break into technical writing. I've compiled everything I've learned into this Technical Technical Writing Certification Course to put you on the fast track towards success."
"I wanted to let you know I signed an offer for my first official technical writing job yesterday! Thanks for your wonderful class and great resources." - 5/5 stars
- Teena M., Technical Writing student who now works as a Technical Writer
---
"​I took Josh's course, did the capstone project, and became certified in August. I've recently been offered a job as a Technical Writer for Amazon at $150k per year! I used my capstone project when they asked me for writing samples."​ 
- Henry Fuse, Technical Writer
---
"Thank you for taking the time to review my work and for the constructive feedback, really appreciate it. And thank you for this great course, I will be referencing it often for sure."
 Christian Quiles, Technical Writing student who now works as a Technical Writer
---
"The capstone will make a great addition to my writing portfolio. I didn't realize how much experience companies expect from their technical communication applicants, so having the writing samples and insight from this course helps A TON as someone with only one year of full-time work experience. You guys nailed it."
- Edina Kremic, Project Manager
What are you going to get from this course?
Over 50+ lectures, 5+ downloadable technical writing templates, and exclusive interviews (more added over time) with technical writing professionals in the industry.
Learn key fundamentals of being a technical writer, how to dominate technical writing interviews, and how to stand out as a better candidate to land the job including topics like:
How to Implement Technical Writing Key Responsibilities

How to Set Scope and Purpose of Your Documentation

How to Analyze Your Audience

How to Conduct Proper Research

How to Structure and Design Your Sentences

How to Create Great Documentation Layout

How to Conduct User Interviews

How to Create Learning Objectives

How to Work with Product Managers, Engineers, and Designers

How to Foster Learning and Development

How to Manage a Knowledge Base 

How to Use Tools for Your Documentation

How to Write and Edit Documentation for Most Use Cases

How to Write an FAQ

API Writing

How to Write White Papers

How to Write

User Manuals

How to Write

Case Studies

20+ Technical Writer Interview Questions Answered

Crafting your resume and job search to land interviews
Exclusive interviews with current technical writing professionals from companies like Airbnb, PlayStation, Spotify, and Oracle including insider tips on breaking into technical writing, popular questions they like to ask candidates during interviews, and their recommendations on standing out in the recruiting process
Access to downloadable templates used by actual technical writers on the job.
Instructor feedback on your capstone project. Yes! I will actually review your work to ensure you've made progress.
Learn the process of answering the most popular technical writing interview questions in order to stand out as a technical writing candidate.
Earn a certificate of completion upon finishing the course
Bonus Content:
I have been 100% committed to adding

more BONUS course content

and interviews with tech product leaders

over time (I love all things Technical Writing and highly enjoy adding content!) and you'll get

FREE LIFETIME ACCESS

to all future content!
Your Instructor
Josh is the founder of Technical Writer HQ and Squibler, a writing software. He is considered one of the top product influencers in the world by Product School and one of the top technical writers. He has been writing software tutorials, manuals, handbooks, and white papers for over eight years. His technical writing has been read by over 200 million people. He has written several books about software and another book about copywriting for personal brands. His work has been praised by LinkedIn's and Facebook's engineering team, Reuters, Inc., and Forbes.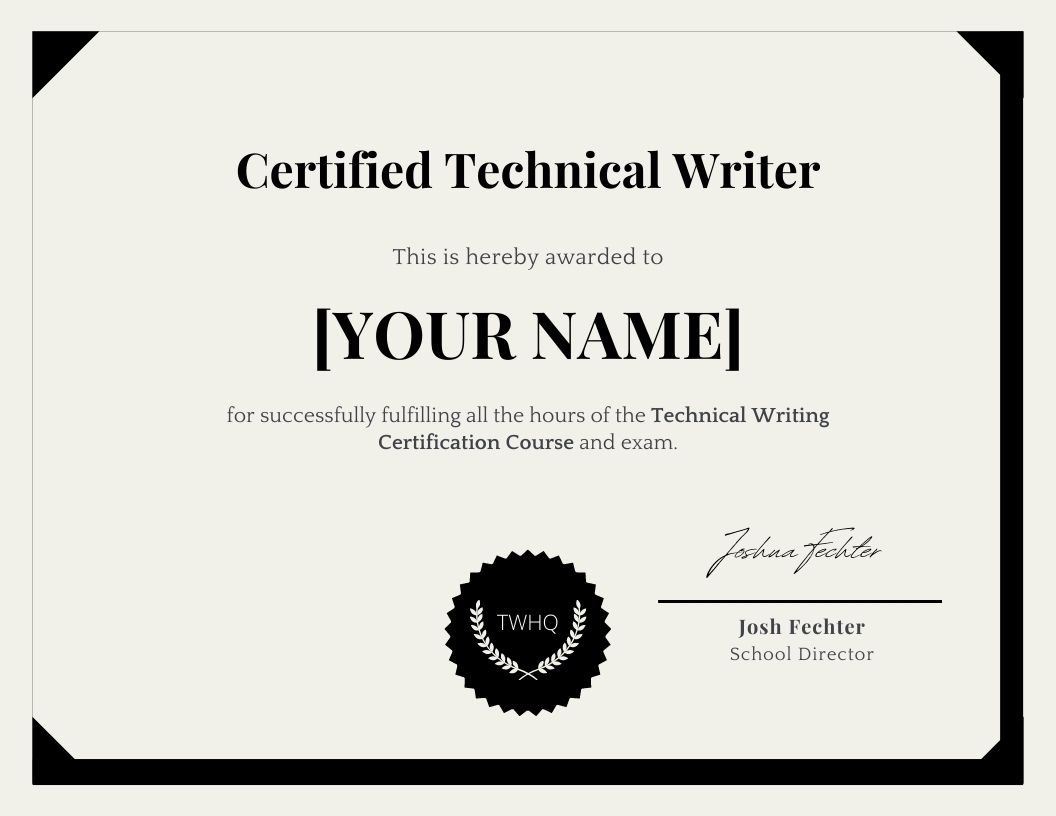 Earn Your Certification
Each certification is hosted on Technical Writer HQ's website ensuring its authenticity with hiring managers.
This course has no prerequisites and you do not need a technical writing background
You should NOT take this course if:

You are already an experienced technical writing professional

You aren't willing to spend 30 minutes every day for about a month to complete course content 

You SHOULD take this course if:

You are curious about technical writing and want to learn more about the role and responsibilities

You have no prior experience and you want to transition into a technical writer role

You are trying to determine if the technical writer role is right for you

You are beginning your career in tech or are making a career change
Frequently Asked Questions
When does the course start and finish?
This course is intentionally structured so it can be completed over the course of just 1 month. It is a completely self-paced online course - you decide when you start and when you finish, but I highly encourage you to complete at least a few lessons a day so that you can finish the course at the end of the month.
How long do I have access to the course?
How does lifetime access sound? As mentioned before, I am 100% committed to adding even more bonus content (I love all things technical writing and enjoy adding content) as well as bonus interviews with awesome technical writing leaders. After enrolling, you will have FREE LIFETIME ACCESS to all of it for as long as you like - across any and all devices you own.
What if I am unhappy with the course?
We would never want you to be unhappy. If you are unsatisfied with your purchase, contact us in the first 30 days and we will give you a full refund.